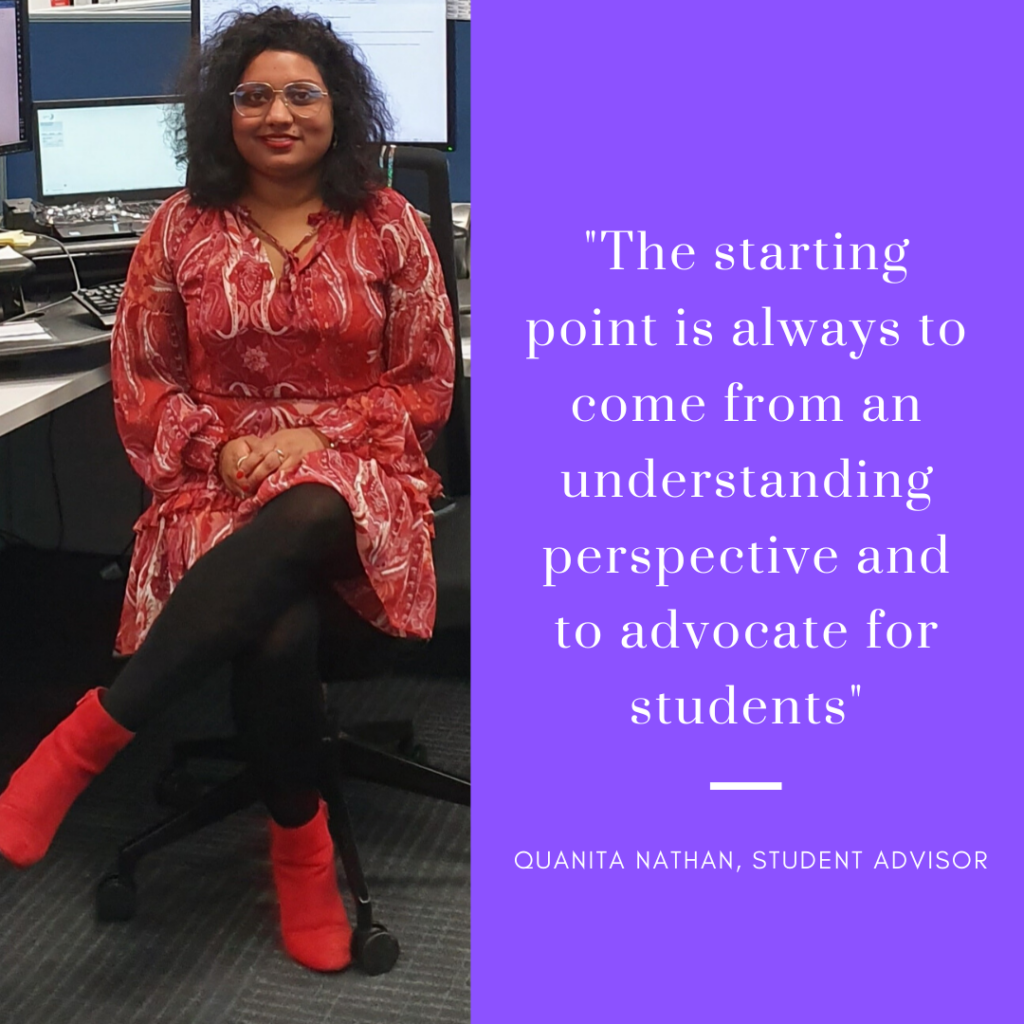 Higher education students are confronted with a large number of academic choices during their studies. Which units should be taken next? How much study load can be successfully engaged with? What should a learners do when they are not progressing satisfactorily? Can they still complete the program in their expected number of years? All these decisions are often taken without complete knowledge of the intervening factors or their short, medium, and long-term consequences. To help students make better decisions, most universities offer student advising as a student service. Student advising is a decision-making process that assists students in the clarification of their academic goals and the development of an educational plan for the realisation of these goals through communication and information exchanges with an advisor. The professionalisation of academic advising in higher education has increasingly gained importance. As a result, academic advising has become more student-centric; students' needs and expectations for their personal and professional lives are part of the advising process. Student Advisor, Quanita Nathan, shares her experience in her role of academic advisor and offers a unique academic support perspective as we navigate the impact of COVID-19 in higher education.
---
What are the most common concerns of learners commencing online study?

As online study is relatively new, students have a variety of concerns surrounding the delivery methods and support available to them during their studies. Education has remained relatively stable over decades and students have a set expectation in their mind to how higher education is supposed to look like. Most students feel that they do not have the same level of support available to them as there is no face-to-face component. They also feel that they are left to their own devices as there is no set times for classes. Students have to take a little more responsibility over their studies, however, there is a multitude of support available to them via a range of online methods. The delivery method is slightly different to on-campus studies as the majority of it is done via an online platform with videos and reading often substituting face-to-face classrooms. Most students, especially those who have studied before face an adjustment period in order to get used to this new way of studying. However, they soon realise that online studies affords them the flexibility and freedom to fit their studies into everyday life that on-campus study does not have the capacity to do so.

Do you feel there is a way information could be made more easily available to allow learners to take a more active and engaged role and viewing their own personal academic journey?

I think an interactive course planner that marks off a student's course progression might be extremely useful to both students and student advisors. If we could create an online live course planner that highlights exempted, passed, and currently enroled units whilst also providing any extra information a student may need to provide (i.e. WWCC) to enrol in a unit. I also think that usage of videos and graphs or timelines will be useful for online students to assist them in feeling more in control of their academic journey. Overall it is important to discern information in an interactive way which is easy to understand and helps create more engagement for students.

What kinds of queries have you seen come through as a result of the repercussions of coronavirus?

The coronavirus has affected students a variety of ways. We have had students who are no longer able to study due to increase workloads and on the flip-side, students able to give more time to their studies due to some industries unfortunately being negatively affected by the coronavirus and leading to redundancies. We have also has students progression being affected by not being able to attend any placements they may have had planned. As this was such a sudden event that affected such a wide scope of life in general, the queries have been just as expansive. Many of these queries had to be viewed on a case by case basis, but the university has been extremely supportive and many exceptions have been giving in this trying time.

What patterns or information do you rely on to discern/address these queries and concerns?

We rely on the information provided by Program Directors, Academics, and general government protocols to ensure we are providing students a wholesome answer. Any concern that is out of the ordinary will be investigated so that we can provide students with a range of information that will hopefully assist in discerning their concerns. Under normal circumstances we have processes in place, so that students are provided with the correct information. However, as the past couple months have proven processes do not always function in times of change. We have learnt to look at every case individually and lean towards a little more leeway.

How have you effectively addressed these concerns?

The starting point is always to come from an understanding perspective and to advocate for students. We did not have answers for the questions that were being asked, when all of changes occurred due to the coronavirus. The way that we effectively addressed these concerns was to escalate concerns to the correct people and to ensure that the outcome was in the best interest of the students. Personally, there is probably more that could have been done to address some of the more specific concerns of students, but given the current circumstances, we have assured students that their progression and studies will not be halted and alternatives are being put in place so that students can continue with this aspect of their life.

---
Professional academic advising creates a vital connection between students and their education – helping them to become more reflective and strategic about the choices they are making and the learning they are engaged in.