Economist Richard Thaler has studied how people are motivated and how they make decisions; he has been involved in research that connects persuasion with design principles to form the theory of behaviour economics.
A nudge is an approach 'that changes the context in which decisions are presented to in order to encourage a particular choice' (Einfield & Blomkamp, 2021). The greatest benefit of nudging is the shift towards good decision-making which is in the users' interests.

As a Bachelor of Science (Business) graduate, I became familiar with Thaler and other behavioural economists. I was inspired to apply the concept of nudging in my teaching practice. Since 2019, I have been reframing non-engagement. Using learner analytics, I identify late or non-submissions of assessments. Then, I nudge students who have not yet submitted (but the deadline has not yet passed). I initiate with a message subject of 'Need more time to submit? Do you have questions?' I also send simple 'well done' messages to students who have submitted prior to the deadline – as positive reinforcement.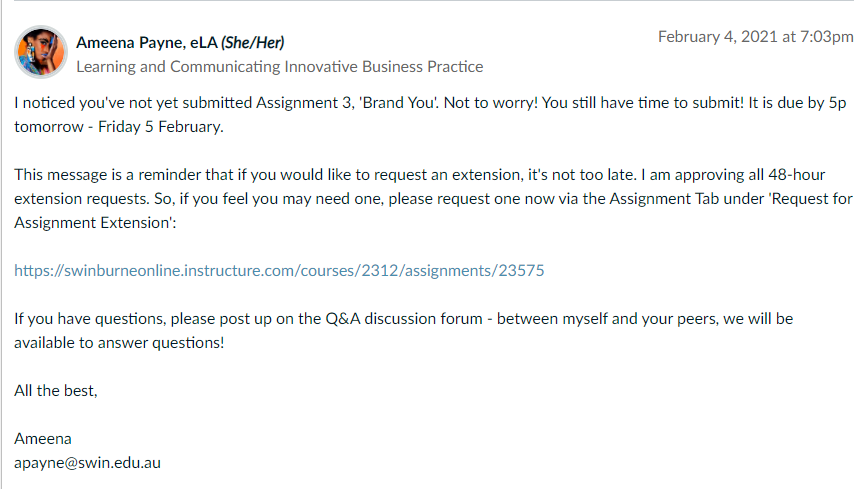 I have found nudging to be effective within the online environment. My student cohort are first year and traditionally under-served students who may be anxious to get started, may be unaware of the student support services available to them, and/or due to competing demands, may need to further develop their time management skills to accommodate their new academic endeavour.

Sending messages to students who have not yet taken an action that will benefit their learning journey may assist learners in developing effective self-regulatory behaviour. The nudge should act as a call to action – e.g. a prompt to submit, request an extension, or review the learning materials to ensure a quality future submission.
Deployed appropriately, nudges can steer learners to make better choices. However, we must consider student privacy and ethics. In The Manifesto for Online Teaching, Bayne and colleagues (2020) ask us to consider how can we may ensure values-based systems of monitoring student engagement.

Well-tailored digital nudges can help enable persistence, improve unit pass rates and retention. When thoughtfully written, they can also lead to increased student satisfaction with the unit and affect toward the instructor (it demonstrates care and may build trust)!
What are your thoughts and experiences? How else might we nudge adult learners – gently pushing behaviors in the desired direction?
If you enjoyed this post, please share on social media! #HumanisingOnlineLearning